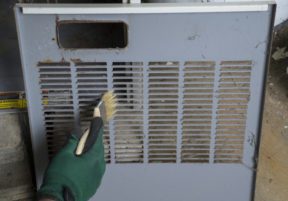 As the year goes by, it helps to have a few signposts. We recognize certain moments throughout the year that help maintain our health. We may visit the family doctor to get an annual physical. We may have a tradition of giving the gutters a good cleaning before the leaves start falling in earnest.
Or, say, you take your car in once a year for a check-up. Your mechanic checks all the fluids. He or she makes sure the fuel pump is working right. They might rotate the tires and check the suspension.
All of these preventative steps serve to extend the lifespan of the car. Rather than have your timing belt blow out while you're on I-71, you replace it on schedule, or when you notice signs of wear.
Similarly, your furnace needs this kind of yearly upkeep.
An estimated 75% of "no heat" calls for furnace fixes result from the furnace not being maintained properly. And in nearly all of these calls, the homeowner would have saved money by servicing the furnace rather than waiting for it to fail completely.
Having a furnace maintenance visit is a smart addition to your calendar, for the beginning of fall. Just as the summer swelter dies down, fix any furnace issues before you even need to turn it on. Get fresh filters, and make sure your vents are clear.
In the odd times of 2020, with all of us being stuck inside more than usual, it is easy to lose track of the seasons. There is a great deal that none of us can control at the moment. One thing you CAN control, however, is the health of your furnace.