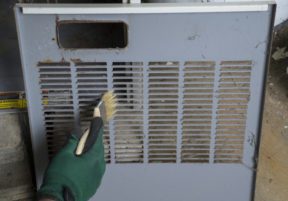 The HVAC industry has seen huge improvements in energy efficiency recently. There is, naturally, a huge push to develop systems that use less electricity. With this momentum, HVAC manufacturers have invested heavily in research and development, and the results of those investments are hitting the market.
A new system will certainly be more energy-smart than your older HVAC models.
If you have an older system, though, what can you do to make it work cleaner and stronger? As a Cincinnati furnace repair company, we have some ideas.
Add Insulation to Your Home
Your attic may not be as well-insulated as you think it is. Beef up your insulation, and your HVAC won't need to work as hard.
Seal Your Ducts
The duct leakage struggle is real! Your treated air may be seeping out before it even makes into the rooms. Check out our duct sealing service.
Add a Programmable Thermostat
Set some parameters for letting the system rest while you are out of the house, and you can save a ton. Same goes for setting the system to turn down overnight.
Preserve Your Airflow
Do you have curtains or furniture blocking vents? Are ducts running into resistance? Make sure the air is flowing steadily all over to ensure maximum efficiency.
Let Your Curtains Help You
Speaking of curtains, blocking the windows during summer days will let your air conditioner have an easier time. Conversely, making sure your curtains and blinds are open during the winter sunlight will let even small amounts of solar heat filter into your home.
Get Your System Checked
You may have some clogged vents. You could have a blower that is off. You never know what may be going wrong with your system. Simple, easy, scheduled maintenance calls could save you a lot of money and prevent many headaches.
Change Your Furnace Filters More Often
You would be surprised how many homeowners neglect to change their air filters regularly. Those things get full of dust and dirt and grime, and need to be swapped out consistently.
Mind Your Oven and Your Dryer
Dryers pull in warm air, and ovens create heat. If you avoid running them during the day in summer months, you give your AC a break.
Clean Your Gutters
Your gutter holds onto moisture. If that moisture gets into your HVAC, or onto your outdoor HVAC unit, it can really mess things up and harm your system.
Put Your Outside Unit in the Shade
If your outdoor HVAC unit is baking in the outdoor sun, it could overheat and falter. Putting the unit in a shady area next to your house will prevent this from happening.
If you need any furnace assistance in the Cincinnati area, contact Pinnacle Air Solutions today!